April eNews

Thank You Volunteers!
National Volunteer Appreciation week is April 7-13. As we get ready to kick off the week, we want to take a moment to acknowledge, celebrate and thank our Susan G. Komen®Dallas County volunteers.
Whether they are stuffing envelopes, folding t-shirts, coordinating silent auctions, serving on the Race Committee or even educating their community about breast health, (among the many other ways our volunteers drive our mission), our volunteers are the life-blood of Komen Dallas County.
We can't thank our volunteers enough! Check out our all-star 2018 volunteers here.
Commit to 3 Days
The Susan G. Komen 3‑Day® is a community of dedicated women and men who, each year, pour their hearts and souls into taking on an incredible challenge: a three‑day, 60‑mile walk. They walk for their sisters, mothers, fathers, daughters and friends. They commit because they can't sit idly by watching loved ones fight and die from this disease.
Join the Dallas/Fort Worth 3-Day this November 1-3, 2019.
Friends of Komen Dallas County will receive an additional $25 off the registration fee using the code IMPACT25.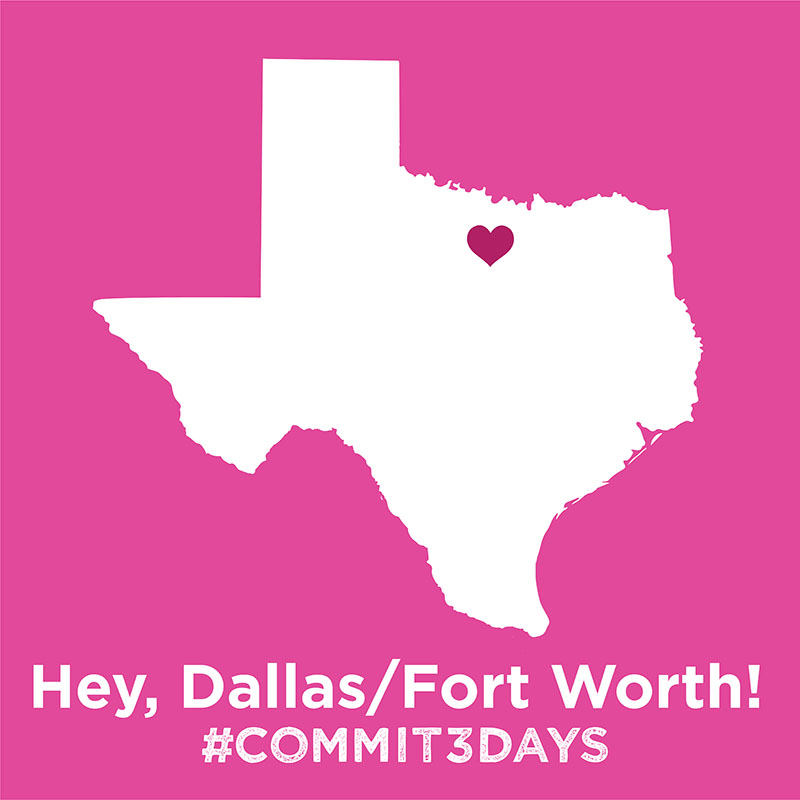 Take Action
Oral cancer medications can be taken at home, giving patients a better quality of life than they would with IV-based cancer treatments, as they allow patients and their caregivers to spend less time and money traveling to cancer care facilities.
The Cancer Drug Parity Act ensures parity in patient out-of-pocket cost for all cancer treatments, regardless of how they are administered. This is one of the many reasons why we need oral parity. Take action and fight for oral parity with Komen Advocacy here.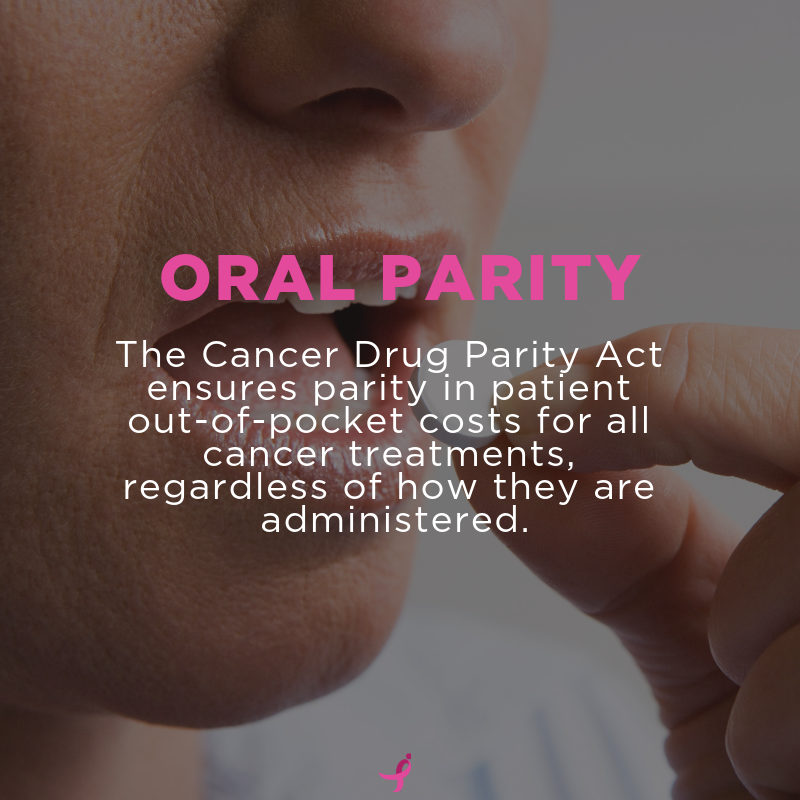 Welcome New Board Members 
We welcome our two new Board Members, Sharon Lakes (photograph above) and Dr. Leanne Metcalfe (photograph below).
Sharon Lakes is the Sr. Director of Communications at Conifer Health Solutions. Service has long been an important part of Sharon's life as evidenced by volunteerism with organizations such as the African American Museum of Art, Boy and Girls Club of Collin County, Habitat for Humanity, Junior Achievement and Family Compass. Today she believes that it is a special time to become more deeply involved with Komen Dallas County, and to support the evolution of the organization. She is ready to serve survivors/forever fighters and their families for generations to come.
Leanne Metcalfe is the Executive Director, Research and Strategy for Health Care Service Corporation (HCSC). Leanne collaborates with HCSC clinical network, government and data science teams, as well as external provider groups and top tier academic research institutions to create strategies aimed at improving wellness programs, healthcare value and patient quality of life.  She is also a 2017 recipient of the Dallas "Hidden Figures" award presented by the DFW chapter of the National Society of Black Engineers. Her passion for Komen Dallas County's work stems from her own personal battle against cancer, and from the passing of a dear advisor from breast cancer.
We are so thrilled to have these two remarkable women serve on the Komen Dallas County board.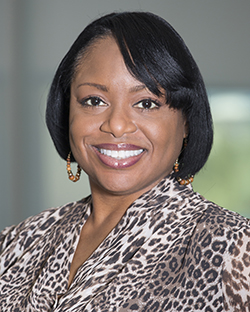 CARS
Turn your great ride into a great gift for Susan G. Komen® Dallas County. Vehicle donations keep our mission going and help you clear out some space at home. To give, simply submit an online donation form here and an expert Donor Representative will arrange for your free vehicle pick-up. Donating is easy and tax-deductible! Give today.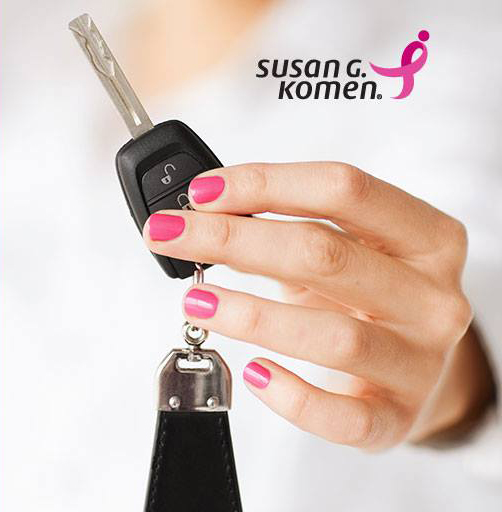 Promise Breakfast 
Join us for the third annual Susan G. Komen® Dallas County Promise Breakfast on April 25th at the Belo Mansion.
Emceed by Janet St. James, former medical reporter for WFAA/Channel 8 and Forever Fighter, the morning will include a panel discussion with current Susan G. Komen® researchers discussing their work to further the fight against breast cancer.
Purchase tables and tickets here.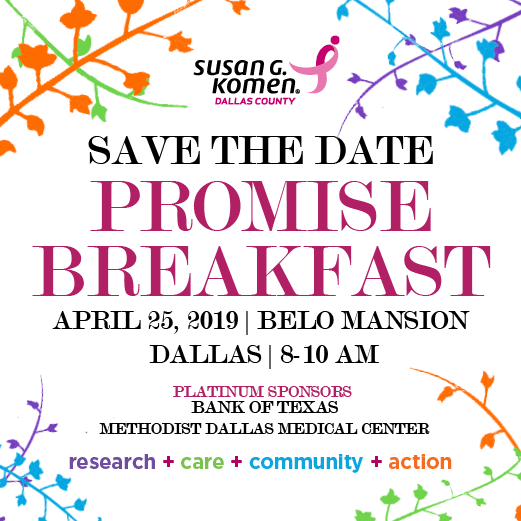 Lighting Your Path- Survivorship Event
We are looking forward to the upcoming free Lighting Your Path support event on Sunday, May 5. We are honored to collaborate with the American Society of Breast Surgeons Foundation to offer a great opportunity for breast cancer survivors to connect and learn from one another.
You'll also have the opportunity to mingle with some of the top breast care experts in the Dallas-Fort Worth area – without the waiting rooms, copays, or any insurance requirements whatsoever! Get access to the care you need. Learn more and register here.