Introducing the BigWigs Class of 2017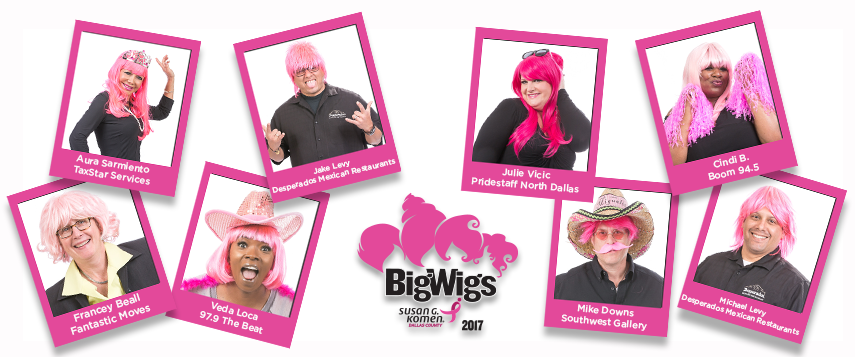 SUSAN G. KOMEN® DALLAS COUNTY LAUNCHES ITS BIGWIGS CAMPAIGN WHERE COMMUNITY LEADERS COMPETE TO RAISE MONEY FOR THE FIGHT TO END BREAST CANCER
DALLAS – February 21, 2017 – From February 20-March 31 Komen Dallas County will launch its inaugural BigWigs campaign. Over the six week timeframe, eight community and business leaders from all over Dallas will compete to see who can raise the most funds for Komen Dallas County. Each BigWig has committed to raise at least $1,000. Komen Dallas County has an overall goal of raising $16,000 through this campaign.
Participants include: Jake and Michael Levy, owners of Desperados Mexican Restaurants, Julie Vicic, Strategic Partner for PrideStaff North Dallas, Aura Sarmiento, owner of TaxStar Services, radio personalities, Cindi B. and Veda Loca from Boom 94.4 and 97.9 The Beat, Francey Beall, owner of Fantastic Moves, and Mike Downs of Southwest Gallery.  Each BigWig has been impacted in some way by breast cancer.
"After the loss of the love of my life in 2009 my mother said to me 'you honored her in her life, and now you have to honor her in her death.'  I hope my participation will help in the education, research, treatment, and eventually a cure. I can't think of a better way to honor my wife than to help others in the effort to end breast cancer." Mike Downs of Southwest Gallery explained why this campaign means so much to him.
Julie Vicic of PrideStaff North Dallas added, "as a BigWig I get to support Komen Dallas County in honor of my loved ones who have been so deeply affected by breast cancer – it touches so many lives, but most recently my dear friend's mom, my grandmother-in-law, and one of my best friends from college fought this ugly disease that robs some of the most beautiful people of health, spirit, and life."
Nicole Metcalf, Executive Director of Komen Dallas County, stated, "as one of the cities with the highest breast cancer mortality rate amongst African American women, and with the current uncertainty surrounding the Affordable Care Act, the need is great for low cost to no cost breast health services. We are thrilled to have so many community leaders 'wigging out' with us to support these vital programs." Komen Dallas County will also invest proceeds from the BigWigs campaign in national research to find the causes and the cures.
This past September, Komen announced its bold goal to reduce current breast cancer deaths in the United States by 50% by 2026. Although progress has been made, it is estimated that in 2017, more than 250,000 new cases of breast cancer will be diagnosed, and more than 40,000 women and men will lose their life to this disease.
To learn more about the campaign, or to donate to your BigWig of choice visit www.info-komen.org/DallasBigWigs.
About Susan G. Komen® Dallas CountyKomen Dallas County is committed to Dallas' fight against breast cancer. Since its inception, Komen Dallas County has invested more than $23 million in local breast health programs providing education, screening, diagnostic treatment, patient navigation and transportation services. Komen Dallas County has also invested over $7 million in national, cutting edge research to find the cures so that future generations will not have to face this devastating disease.